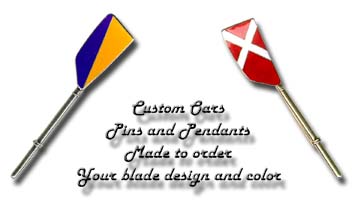 Oar Pins, Pendants, Tie Tacks, Lapel Pins, Charms
Key Rings and Cuff Links
---
M.E. Keyser / OARS sells custom designed oar jewelry, including pins, pendants, tie tacks, lapel pins, charms, bracelets, key rings, belt buckles and cuff links in 14K gold, Sterling Silver and Sterling with 24K gold plating. Each piece of our rowing jewelry is handmade and custom enameled with the oar blade design and colors from your rowing club, organization, college, university, or high school.
Oar jewelry can also be personalized with engraving on the back of the blade to mark milestone events such as graduations, landmark regattas, and special occasions including Mother's Day, Father's Day, Christmas and birthdays.
Crew jewelry is worn by rowers and their proud families.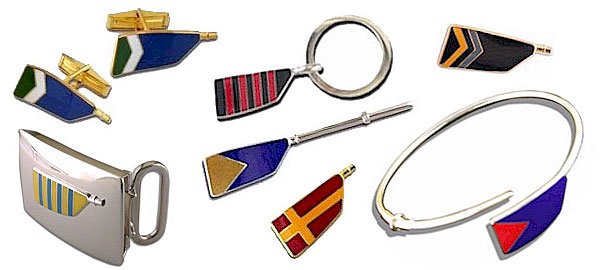 Meet Me at the Next Regatta
I plan to be at the following regattas, among others. Place your order four weeks in advance and I will deliver it to you at the regatta. ~MEK
Navy Day

Head of the Charles

Head of the Schuylkill

Frostbite Regatta
Lake Mercer

Camden, NJ ~Cooper River
Jesuit Invitational

Knecht Cup

NJ Scholastics

EAWRC Eastern Sprints

Philadelphia~Schuylkill River
Manny Flick

Murphy Cup

Catholic Championships

City Championships

Dad Vail

Dr. Robert White

Stotesbury Cup Regatta

Schuylkill Navy

Princeton ~ Lake Mercer
Mercer Sprints

Because all of our work is custom made for you, I do not carry inventory to display in a tent. If you want to meet me at a regatta to view our samples, please e-mail me in advance at:
mary.ellen@MEKeyser-OARS.com
or call 610-999-6206