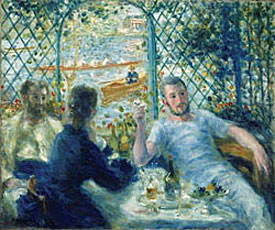 We became rowing enthusiasts when our oldest son began to row for his high school in 1995. By 1998 our two sons were in the same Varsity boat, one in the five seat and one coxing.
That year my jeweler husband had a 14 Karat Oar pin made for me with the boys' school blade. After four years of receiving compliments on the pin and people asking where they could get one, I finally convinced my husband that he should make more of them. He told me he would only make them if I would sell them, which I have been doing by handing out business cards at regattas I attend and by word-of-mouth.
Since the fall of 2001, I have sold hundreds of oars in 14K Gold, Sterling Silver, and Sterling Silver with 24K Gold Plating. Until May of 2007, we had three designs, the full oar pin, a tie tack / lapel pin, and a pendant. At Stotesbury that spring, I was asked if we made cuff links, I said "no" because all of our tooling is for port oar blades. The customer's reply was that her "husband wouldn't notice and no one else would either, since he wouldn't walk around with his wrists together." So, we now make cuff links, too!
In response to our customers' requests, we have also added charms, key rings and belt buckles to our product line.
Although we sell plain metal (gold or silver) oars, by far our most popular items are our custom made oars with hard-fired enamel school and club designs. While there are other jewelers making silver and gold rowing jewelry, our precious metal products are unique because of the hand-designed enameling. There is no mistaking the fine quality workmanship of M.E.Keyser/OARS.
Oar jewelry can also be personalized with engraving on the back of the blade to mark milestone events such as graduations, landmark regattas, and special occasions including Mother's Day, Father's Day, Christmas and birthdays.